Welcome to Grace Hospital
COVID-19 Information
Visitor Access
Effective Monday, June 21, 2021
Expanded social visitation will include the ability for general visitors to visit patients in Acute Care Green Zones.
There is no change to the requirements or access of essential care partners.
Fully vaccinated individuals are defined as those who have received both doses (any combination) of an approved two dose COVID-19 vaccine (AstraZeneca, Pfizer, Moderna), OR a single dose of an approved single dose COVID-19 vaccine (Janssen /Johnson & Johnson) with more than 14 days having passed since the second dose (or approved sole dose) was received.
All visitors must show proof of vaccination status and proof of identity each time they enter the hospital; they must pass screening, and follow all Infection Prevention and Control requirements, including wearing appropriate personal protective equipment as directed by staff.
Please click here to view Acute Care Facility General Visit FAQs for Families
---
COVID-19 Outbreak Notification
(Update: Tuesday, June 8, 2021)
The Grace Hospital COVID-19 outbreak in the 3 South Unit which began on May 23, 2021 has been declared over. (4 positive patient cases, no staff cases and no deaths)
---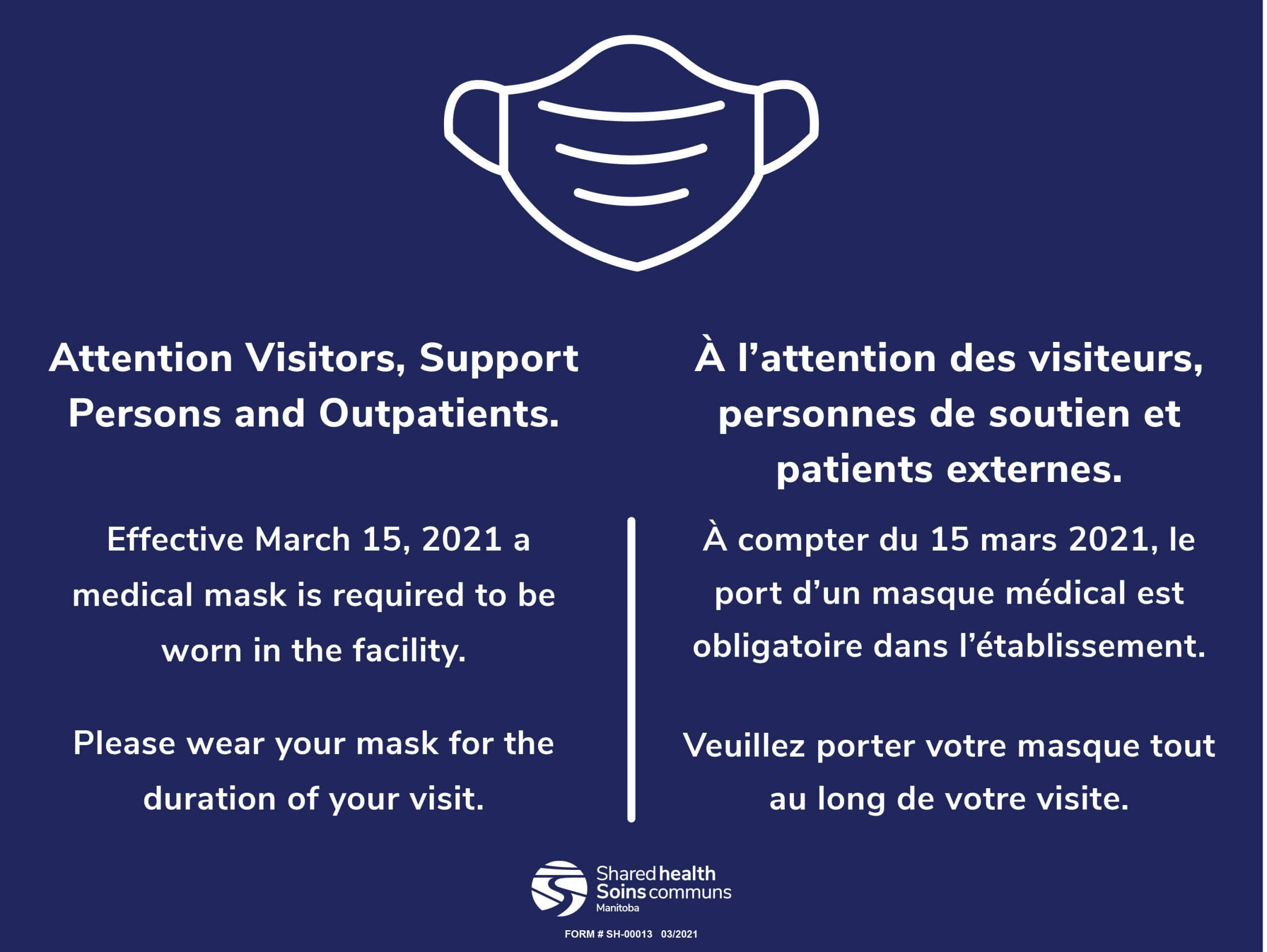 ---
SCREENING: Everyone entering the hospital will still be screened for symptoms and travel history by hospital staff before being permitted to proceed.
DESIGNATED ENTRANCES: Entry to the Grace is permitted only through the Emergency Doors (24-hours a day) and the main front entrance (7am – 8pm).
APPOINTMENTS: Scheduled surgeries, appointments, diagnostic tests, and lab work for out-patients continue unless you have been notified otherwise.
---
We are still encouraging everyone to visit by phone or use the Well Wishes Program through this website to let your loved one know you are thinking about them.
---
DO NOT VISIT ANY HEALTH CARE FACILITIES IF YOU HAVE:
Returned from inter-provincial travel from Eastern Canadian provinces or international travel in the past 14 days.
Had close contact with someone with a confirmed COVID-19 case.
Had close contact with someone being tested for COVID-19 at this time.
Been instructed to self-isolate or self-monitor.
Have cold or flu symptoms.
We are sorry for this inconvenience and thank you for your patience and cooperation.
---
About Us
Grace Hospital is and has been a place where many of life's most important moments take place. The Grace Hospital plays an integral role in the delivery of health care services in Winnipeg, and has done so since 1904. We are currently one of three acute care sites in the city, providing full services in our Emergency Department, in critical care, as well as providing a full complement of acute care services.
As our patient, we see you as a person first. You are unique and special, and your health care needs are equally unique and special. Our job is to address those needs as effectively as possible.