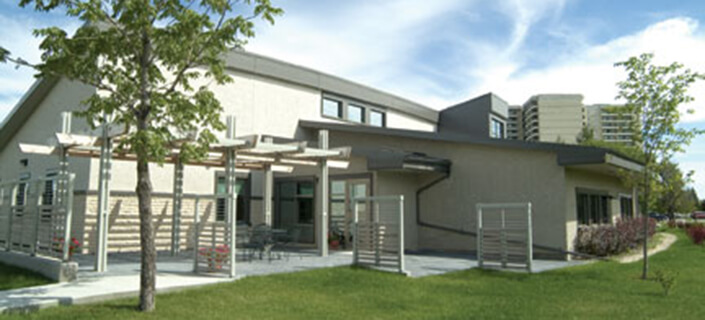 About the Grace Hospice
The Grace Hospice is a free-standing palliative care facility on the grounds of Grace Hospital. It provides an environment where people living with progressing illness can live in an atmosphere of peace and comfort. Compassionate, responsive care is provided by staff, physicians and volunteers dedicated to offering respectful support.
Residents are helped to experience reduced suffering, improved comfort and opportunities to realize the potential for personal growth and spiritual healing in the last days of their life.
A home-like atmosphere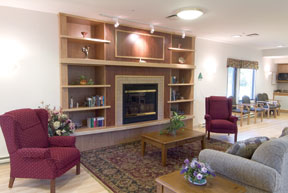 The Hospice opened to its first residents in January of 2004. Even at 18,000 square feet, the environment is home-like, offering 12 spacious resident rooms, each equipped with a television, microwave, telephone, ample closet space, private bath including shower. Residents are allowed to visit the chapel and dining room, and children's play area (temporarily unavailable), sun room and patio. Each resident room provides a view of the grounds and Sturgeon Creek.
Visitor Guidelines
During a resident's stay at the Hospice, their room is home: therefore visitors are most welcome and encouraged. Resident rooms are equipped to allow visitors to stay with the residents. A play area is available for small children, and the entertainment area is available to visitors of all ages.
We wish to provide a comfortable atmosphere for all of our residents, so we ask that noise levels be kept at a respectful level at all times.
Visitors and Screening Procedure:
All visitors must be screened at the Grace Emergency Department Hard Stop entrance 24/7 and pass screening criteria. Visitors with vehicles are encouraged to briefly pull up in their car to the Emergency Department Hard Stop entrance, once cleared for visiting, visitors can then proceed to park in the parking lot near Hospice. *The parking rate is $2.50 per hour
Each Hospice visitor requires a Visitor Sticker
Visitor's name will be logged in by the Hard Stop screener on Visitor register for Contact tracing
All visitors will be given a medical grade mask by the Hard Stop Screener; which is required to be worn for the duration of the visit
Visitors that are cleared to visit can proceed to Grace Hospice front entrance and staff will ensure the Visitor Sticker is current (e.g. Monday sticker for Monday visit).
*In case of overnight stay visitor's, Hospice staff will provide a new Visiting Day Sticker to reflect the appropriate day.
Visiting Hours:
Visiting Hours:
No visiting hour restrictions
Doors are locked from the outside 24/7
Indoor Visitation:
We can safely accommodate up to maximum of 4 visitors per resident at a time (to honor social distancing principle in the resident's room)
Overnight stay is allowed
Outdoor onsite visitation:
No limit with the number of visitors but please observe social distancing
What are the costs of the Hospice?
The daily rate (per diem) for hospice care is $30, payable at the end of each month through the Grace Hospital Finance Department. This charge includes 24 hour nursing care, on site food preparation that is resident-centred (meals are prepared on site with the preferences of residents in mind), housekeeping services, telephone and other amenities, such as a microwave and fridge.
Residents are responsible for setting up their own cable packages. This can be done by calling Shaw Cable Services at 1-877-517-6518.
Resident medication costs are covered with very few exceptions by the Manitoba Health Pharmacy Drug Access Program.
Who is part of the team?
The Hospice is staffed by nurses, resident aides, clerical staff, nutrition support worker, Spiritual Health Services, psychosocial specialist and staff who manage the hospice environment and supplies.
The Winnipeg Regional Health Authority's Palliative Care program team and physicians collaborate with our hospice team. Other supports are provided through the Grace Hospital and Grace Hospital Foundation.
Links with other community programs are also in place to enhance the quality of life of residents.
How is the Hospice supported financially?
The Grace Hospice would not have become a reality without the generous support of donors in our community. The Grace Hospital Foundation supplements operating funds the Hospice receives within the budget of the hospital. Donations are received in a number of ways, including in-memoriam tributes for individuals who received care at the Hospice.
If you would like more information about providing support to the Hospice, contact the Grace Hospital Foundation at 204-837-0375.
For further information please contact the WRHA Palliative Care Program at 204-237-2400.