Well Wishes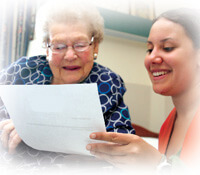 The Well Wishes Program at Grace Hospital provides an opportunity for patients to receive special thoughts and best wishes from family and friends.
How it Works
Grace Hospital Volunteers deliver "Well Wishes" to patients on a daily basis (excluding weekends and holidays).

Submit the information below and our volunteers will receive the printed email and hands deliver it to the patient. The system is designed for well wishes only. We cannot send outgoing replies from the patients.
Send your love through the Grace Hospital "Well Wishes" program, and let your loved one know you are thinking about them.
Please be aware that you are unable to insert pictures or send any form of attachment(s).
Emails intended to conduct personal business, containing questionable content or business/vendor solicitations will be deleted from the system.
---
Well Wishes Message
* indicates a required field